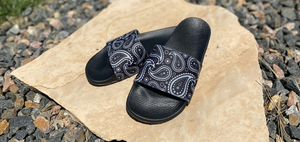 Black Slide Sandals
---
Our black slide sandals collection features our favorite black slide designs. All designs featured here are available in Men's, Women's, and Youth sizes. Though we get orders for slides of all colors, year in and year out black is our most popular color. It's easy to see why: black slides are super versatile and can work with nearly any outfit, be they shorts, skirts, jeans, or dresses. They're an essential part of any summer wardrobe!

Deco slides are a little different than most slide sandals out there. Our slides are made with a neoprene strap that goes over the foot rather than a rubber strap, which fixes the problem of chafing that you get with some other brands. The neoprene strap is also far more breathable than leather or rubber, making it more comfortable in hot weather climates. The soles of the slides are polyurethane rubber. Polyurethane is a very resilient and comfortable material that is soft but durable and never deforms even with heavy use. Because of their comfort and quality, our black slides sandals are especially popular with athletes as a pre and post workout shoe, as well as with people that intend on using them for outdoor use. We prefer to wear ours to the beach or the pool.

While slides have been particularly popular in the last few years, they've been around virtually unchanged since the 1970s. The slides look is timeless and will never go out of style. The simplicity of the design, the comfortable soft soles, and affordability make them an enduring favorite. We've added our own unique twist on slides: you can personalize any pair for no extra charge. Add text, names, or logos to any of our black slide sandals designs using our online customizer to make them your own.